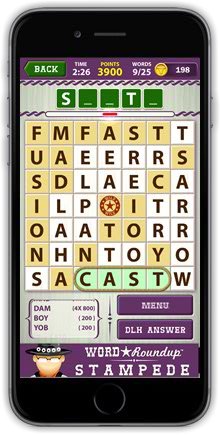 Word Search has never been more fun! Word Search has never been more exciting! Stampede is a truly different "word search" game -- simple, entertaining, compelling and addictive.
Every puzzle in Word Roundup Stampede™ is a David L. Hoyt
hand-crafted masterpiece. He places every word in the 7x7 letter grid. Every letter in the grid is part of one or more common words!
The game is simple to play and endlessly fascinating.
There's no word list. Discover the words yourself!
Use every letter square in the grid to win big!
The middle grid square is Wild (can be any letter).
Special Hoyt Hint words score extra points and award coins.
Enjoy a special Daily Challenge every day!
Play by yourself or play with friends over wi-fi (two-player).
You may set the game so it Speaks your answers and Narrates the multi-player games!
Play by yourself for a delightful mental challenge. Play with friends (local wi-fi) for extra excitement! Plus, you can each have different types of devices (i.e. Android, Apple, Amazon) and still play together!
Download the FREE app today (links below). You'll love playing!
| | |
| --- | --- |
| Your browser does not support the video tag. | |
| David's Video Introduction to Word Roundup Stampede™. | |